Major economic events made this a volatile week. Wednesday's Fed meeting was strongly positive for mortgage rates, while Friday's Employment report was modestly negative. The net result was a decline in rates for the week.
As expected, the Fed held the federal funds rate steady, but the tone of its statement was more dovish (in favor of looser monetary policy) than expected. In particular, the Fed now will be "patient" in deciding if additional rate hikes are needed. At their last meeting in December, officials clearly believed that more rate hikes would be appropriate, but on Wednesday the Fed said that "the case for raising rates has weakened." These comments caused investors to sharply reduce their outlook for rate hikes in 2019.
Another significant change noted in the statement is that the Fed will reconsider the size of the reduction in its massive bond portfolio, suggesting that it may sell fewer Treasuries and mortgage-backed securities (MBS) than expected. A smaller supply of MBS would increase their value, which would be good for mortgage rates.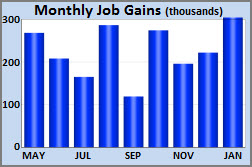 At first glance, the headline figure for Friday's Employment report made it look like January was another blowout with job gains above 300,000 for a second consecutive month. However, nearly everything that followed in the remainder of the report brought the results back toward the anticipated levels. Throw in distortions from the government shutdown, weather effects, and revisions, and in the end, investors viewed the data as just a little stronger than expected.
Against a consensus forecast of 160,000, the economy added a massive 304,000 jobs in January. However, downward revisions subtracted 70,000 jobs from the results for prior months. Strength was seen in the leisure/hospitality and construction sectors, partly due to unusually warm weather in many regions early in the month. The unemployment rate unexpectedly increased from 3.9% to 4.0%, but this was primarily due to the effects of the government shutdown. Average hourly earnings, an indicator of wage growth, fell short of expectations with just a slight increase from December. They were 3.2% higher than a year ago, roughly the same annual rate seen over the last few months. Despite the shortfall in wage growth, the overall strength of the report raised the outlook for future inflation, which was negative for mortgage rates.
Looking ahead, it will be a light week for economic data. Of note, the ISM national services index will come out on Tuesday. In addition, Treasury auctions on Wednesday and Thursday could influence mortgage rates.
The government shutdown which began on December 22 and ended on January 25 has caused delays in the release of some economic reports produced by government agencies and likely will continue to do so until the affected agencies get caught up. It is generally not known when the impacted data will be ready to be released.
Weekly Change
10yr Treasury
fell
0.07
Dow
rose
400
NASDAQ
rose
150
Calendar
Mon
2/4
Factory Orders
Tue
2/5
ISM Services
Wed
2/6
10yr Auction
All material Copyright © Ress No. 1, LTD (DBA MBSQuoteline) and may not be reproduced without permission.