A rally in the stock market drew assets away from bonds this week, which was negative for mortgage rates, while the economic data released this week caused little reaction. As a result, mortgage rates rose, reaching the highest levels in several years.
Current economic conditions provide many reasons for improving levels of home sales. These include record highs in the stock market, a solid labor market, faster wage increases, and consumer confidence at historically strong levels. For example, the most recent reading for weekly jobless claims dropped to the lowest reading since 1969. Despite all the good news, though, home sales have been disappointing this year.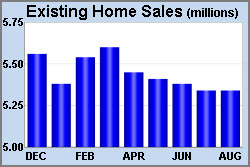 After four straight months of declines, sales of previously owned (existing) homes were flat in August. The inventory of existing homes for sale also was flat from July at a 4.3-month supply, which was not particularly encouraging since a 6.0-month supply is considered a healthy balance between buyers and sellers. A small bright spot was that inventory levels were a little higher than a year ago, which marked the first year-over-year increase in about three years.
A lack of inventory has been holding back home sales, and the latest data on new construction looked great based on the headline figure. Below the surface, however, there was less reason for optimism. In August, overall housing starts rose a strong 9% from July, which was well above the expected level. Most of the increase was due to multi-family units, though, as single-family starts were up just 2% from July, and single-family building permits fell short of the consensus with a decline of 6% from July. Builders point to rising land, material, and labor costs as obstacles to a faster pace of new construction.
Looking ahead, the next Fed meeting will take place on Wednesday. Investors expect a 25 basis point increase in the federal funds rate and will be focused on comments from Fed officials. In addition, New Home Sales will be released on Wednesday. Durable Orders, an important indicator of economic activity, will come out on Thursday. The core PCE price index, the inflation indicator favored by the Fed, will be released on Friday.
Weekly Change
Mortgage rates
rose
0.05
Dow
rose
500
NASDAQ
rose
10
Calendar
Wed
9/26
Fed Meeting
Thu
9/27
Durable Orders
Fri
9/28
Core PCE