This week was one of the quietest of the year. The major economic data generally matched the expected levels, and mortgage rates ended nearly unchanged.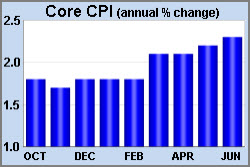 The most significant economic data released this week was the inflation data. The Consumer Price Index (CPI), the most closely watched monthly inflation report, looks at the price change for finished goods and services. Thursday's release revealed that inflation has continued to rise in recent months. Core CPI, which excludes the volatile food and energy components, was 2.3% higher in June, up from an annual rate of increase of 2.2% last month. This was the highest level since January 2017.
While it had little market impact, Fed officials took careful note of the latest JOLTS report. The data revealed that there were 6.6 million open positions, but only 6.1 million unemployed people in the labor force. 36% of small businesses reported not being able to fill open positions in June, matching the record peak seen in 2000. Also, a very high level of employees willingly left their jobs, which is an indication that they are confident in their prospects for finding another job. All of these signs point to a tightening labor market.
Looking ahead, Retail Sales will be released on Monday. Consumer spending accounts for about 70% of economic activity in the U.S., and the retail sales data is a key indicator of growth. Industrial Production, another important indicator of economic growth, will come out on Tuesday. Housing Starts will be released on Wednesday.
Weekly Change
Mortgage rates
flat
0.00
Dow
rose
700
NASDAQ
rose
300
Calendar
Mon
7/16
Retail Sales
Tue
7/17
Industrial Production
Wed
7/18
Housing Starts
All material Copyright © Ress No. 1, LTD (DBA MBSQuotelin