Weaker than expected U.S. labor market data and a reduced outlook for global economic growth were favorable for mortgage rates this week, and rates ended at the lowest levels in about two months.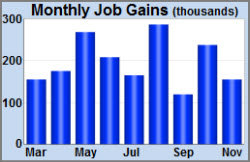 Friday's key labor market report showed continued solid job gains and wage growth, but it was modestly weaker than expected. Against a consensus forecast of 190,000, the economy added 155,000 jobs in November, and the revisions to the results for prior months were minor. So far this year, average job gains have been 206,000 per month. The unemployment rate was unchanged at 3.7%.
Average hourly earnings, an indicator of wage growth, were 3.1% higher than a year ago, which was the same annual rate of increase as last month and matched the fastest pace since 2009. Since weaker economic growth reduces future inflationary pressures, the small miss in the data was good for mortgage rates.
The shortfall in the Employment report, along with a reduction in the outlook for global economic growth and growing fears of an escalation in the trade tensions with China, have caused investors to lower their expectations for the pace of tightening by the Fed in 2019. While most investors still believe that the Fed will raise the federal funds rate by another 25 basis points at the next meeting on December 19, they have significantly scaled back the anticipated number of rate hikes next year.
Looking ahead, the Consumer Price Index (CPI) will come out on Wednesday. CPI is a widely followed monthly inflation report that looks at the price change for goods and services. Retail Sales will be released on Friday. Since consumer spending accounts for about 70% of all economic activity in the U.S., the retail sales data is a key indicator of growth. Industrial Production, another important indicator of economic growth, also will come out on Friday. In addition, the next ECB meeting will take place on Thursday and could influence U.S. mortgage rates.
Weekly Change
Mortgage rates
fell
0.08
Dow
fell
800
NASDAQ
fell
125
Calendar
Wed
12/12
CPI
Thu
12/13
ECB Meeting
Fri
12/14
Retail Sales
All material Copyright © Ress No. 1, LTD (DBA MBSQuoteline) and may not be reproduced without permission.