Weakness in the stock market was good for mortgage rates this week, while the major economic data was mixed and had little impact. As a result, mortgage rates ended the week lower.
As was the case this week, stock prices and bond prices often move in opposite directions. The simple reason is that most economic events are influential because they change the outlook for future growth and inflation. Since a stronger economy is positive for stocks and negative for bonds (and vice versa), the two asset classes react to this type of news inversely. As the outlook for global growth slowed this week, investors shifted assets from stocks to bonds, pushing yields lower, including mortgage rates.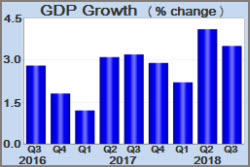 The first reading for third quarter gross domestic product (GDP), the broadest measure of economic growth, was 3.5%, above the consensus of 3.3%. This followed even stronger growth of 4.2% during the second quarter, making these the strongest back-to-back quarters since 2014. Strength was seen in consumer and government spending, while business investment was somewhat weak.
Investors will be watching to see if the strong economic growth this year was due to transitory factors such as tax cuts and fiscal spending or whether it will be sustained in coming years. Since there are often large revisions to the initial GDP data, the relatively small outperformance versus expectations had little impact on financial markets.
There were no significant surprises from Thursday's European Central Bank (ECB) meeting. Despite future uncertainty related to Brexit (the British exit from the European Union) and Italy's proposed budget, the ECB made no change in interest rates and confirmed its plans to conclude its bond purchases at the end of 2018.
Looking ahead, the important monthly Employment report will be released on Friday. As usual, these figures on the number of jobs, the unemployment rate, and wage inflation will be the most highly anticipated economic data of the month. Before that, the Core PCE price index, the inflation indicator favored by the Fed, will be released on Monday. The ISM national manufacturing index will come out on Thursday.
Weekly Change
Mortgage rates
fell
0.05
Dow
fell
900
NASDAQ
fell
350
Calendar
Mon
10/29
Core PCE
Thu
11/1
ISM Manufacturing
Fri
11/2
Employment
All material Copyright © Ress No. 1, LTD (DBA MBSQuoteline) and may not be reproduced without permission.